Meet the Bipolar Babe – Founder of the Bipolar Disorder Society of British Columbia
The Bipolar Burble blog welcomes Andrea Paquette – an advocate, writer, and most of all a stigma stomper. Andrea created the Bipolar Babe project in May of 2009 and is the founder and Executive Director of the Bipolar Disorder Society of BC.
Andrea shares her struggles with bipolar disorder and her newfound desire to connect and educate others.
Bipolar Disorder and the Bipolar Babe
Bipolar disorder has made me fly so high as to literally see a blanket of stars beneath my feet in an insane and torrid psychosis. At one moment I was a young career woman, even a nominee for a member of parliament at the age of 26, but in the next breath, a sufferer, a patient, and in my own mind, a failure. Just as so many others with bipolar disorder, I fell into the depths of pure and utter pain and of self-medication with drugs and alcohol. I could not taste my food, nor care that I could not. Life was beyond meaningless, it actually became a nuisance.
The Bipolar Babe has a Psychotic Break
My first bipolar psychotic break took place in the winter of 2005 when I believed I was Eve from the Garden of Eden and tapped on my neighbour's door, naked, requesting a meeting with Adam. In the throes of a bipolar psychosis, I believed there was to be a rally outside my window celebrating my new life as the next coming of Christ. As religious overtones swept over my psychotic mind, so did the reality that I was soon homeless, jobless, and penniless thanks to the roughshod the symptoms of my bipolar disorder had run over my life. I was soon involuntarily admitted to the psychiatric ward in an Ottawa hospital. I was afraid to shower, too sick to eat and became a prisoner of pale pyjamas and pea soup.
Finally, when I was able to put on my make-up and tumble my hair together in a bun, I scrambled within my situation for some hope, light, anything. But as the bipolar medications dulled the intensity of the psychosis so did they my ability to smile. I soon learned what it felt like to be a flat line. However, that was a time I will never forget because it brought me to my knees, begging God for a chance, a chance to survive and somehow find stability and normalcy in my life.
Creating a Bipolar Safety Net and Wellness Plan
As I pulled myself out of the slump I called existence, I created a bipolar safety net consisting of a psychiatrist, case worker, psychiatric nurse, and counsellor. Medication has played a key role and holistic healing with exercise and building strong bonds with friends have caused me to feel a new familiar strength inside of my being. In my mental health wellness plan I have created wholeness in every area of my life, down to the amount of water that I drink every day.
I find it is so vital to try and conform to your own sense of well-being, creating a personal foundation that works for you. I have found that simple details such as going to bed at the same time every night are so critical, and even things such as having a positive love relationship are key. Having a supportive partner has not only helped me flourish as a person, but it often feels that my mental health has been bathed in a pool of passion filled with positivity and love.
How Does the Bipolar Babe Stay Well?
People ask me, "How does the Bipolar Babe stay well?" I believe that my helpful crutch has been to maintain a solid attitude, not just positive, but an approach that emphasizes wellness, openness and most of all the ability to go with the flow. No matter how trite that sounds, the ability to roll with the waves can spell your fate from a place of wellness or faltering with illness in a deep sea of hopelessness. I don't expect anything. I don't anticipate that I will be healthy tomorrow and I have learned to let go of the fear that comes with that. Sometimes I'm still afraid; it is unnerving, not knowing what turn my illness will take, especially when it is out of my hands, but really that is what life is about. It is unpredictable and we can never anticipate anything in the next instance.
The Bipolar Babe Reaches Out
As Bipolar Babe, the Executive Director and Founder of the Bipolar Disorder Society of BC, I have reached out to others, sharing in school classrooms and learning that battling stigma has been key in my striving for continued wellness. I host support groups for women and teens with a mental health condition here in Victoria, and have learned that it's okay for me to share my own feelings, often compelling me to feel emotional endurance. There is something special to be found in peer support and erasing the stigma within myself has brought me to a place of peace. I've also worked to create spaces where others can share their stories and for this I am grateful.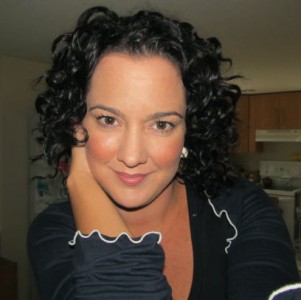 Andrea's "Bipolar Babe" persona has reached great heights in the mental health community and she has been featured in various media outlets such as CBC Radio and CTV News. In 2010, Andrea incorporated the Bipolar Disorder Society of BC. Andrea has recently had her work published, a literary essay as part of an anthology called Hidden Lives: Coming out on Mental Illness, released in September, 2012. Andrea works with youth and adults in the society's Bipolar Babe Peer support groups hosted in Victoria, BC.
You can find the Bipolar Babe on Twitter.