New Book on Living with Bipolar, Depression — Title and Cover Revealed
It feels like I've been waiting for years to tell everyone the title of my book, but the fact is, the title has only existed in its current form for a short while. It's funny how I can write 1000s of words for myself or for clients, practically without thinking about it but when I considered the title for my book, every, single syllable was tough to decide on. And the cover? That took many, many iterations and multiple designers (including me taking a crack at it).
So, today I introduce you to: Lost Marbles: Insights into My Life with Depression & Bipolar.
'Lost Marbles: Insights into My Life with Depression & Bipolar' Cover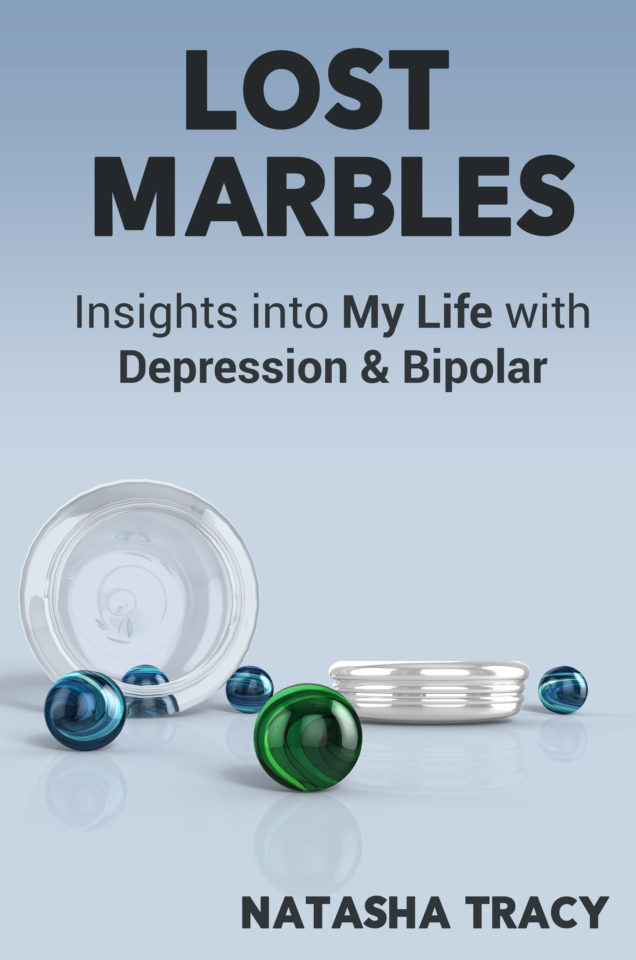 I'm also extremely excited to show you the cover for this new book. Jordan Klosterman of Lee Jordan Design, an incredibly talented graphic designer and generally fabulous person, came up with the design and I can't tell you what a relief that was as I went through at least five major versions before that point. (In case you were wondering, there are four blue marbles and one green marble because one-in-five people will experience mental health challenges; and green, of course is the colour of mental health awareness. Jordan came up with this concept.) My equally wonderful friend Terry did the finishings on the design as he's a Photoshop wizard.
I love this design and I really hope you do, too.
What's in 'Lost Marbles: Insights into My Life with Depression & Bipolar'?
Previously, I revealed a partial table of contents of the book. You can see it here.
Lost Marbles: Insights into My Life with Depression & Bipolar is a book that straddles a self-help book and a memoir with a little scientific information thrown in for fun (Okay, my idea of fun.). It's a book that contains some of my most well-read pieces from here and Breaking Bipolar and new work as well. This book is unlike any I have read on mental illness as it provides fully-referenced facts combined with a direct line of experience to those with mental illness.
DJ Jaffe, Executive Director, Mental Illness Policy Org., author, Insane Consequences: How the mental health industry fails the mentally ill, and amazing mental illness advocate has this to say about the book:
'Lost Marbles: Insights into My Life with Depression & Bipolar' is a witty, original, informed, politically incorrect, and iconoclastic description of what it is like to live with serious mental illness and how to come out on the other side. Natasha Tracy challenges almost every conventional wisdom about living with mental illness. She brings clarity, compassion, a deep understanding and irreverence to subjects including suicide, and deciding whether to take medications or stop medications. She is almost blasphemous in the depth of her introspection. If you want to understand what goes on inside the mind of a bipolar and why, then read this book. You'll understand how Natasha Tracy became one of the internet's top mental illness writers.
I've got quite a few more quotes from different folks like Andy Behrman and others but you'll just have wait and see those soon.
Lost Marbles will be available on Amazon via ebook next month and in a paper format shortly thereafter.