Mental Health Speaker Natasha Tracy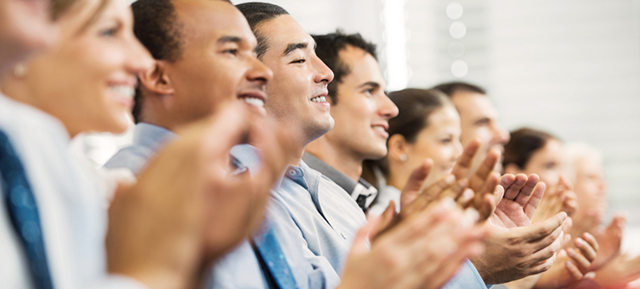 In addition to writing about mental health and mental illness for a variety of sites, I also speak on the matters too. In fact, I spoke to over 1000 people last year alone. I speak at schools, community events, corporations, conferences and pretty much anywhere else I'm needed. I have a habit of making people debate, laugh and cry all in the same presentation. I receive standing ovations and excellent reviews from attendants.
I have spoken:
At the National Council's Conference of Behavioral Health and Addiction in Chicago, IL.
Corporate events
At high schools and colleges
At Mental Health American's Annual Conference in Virginia (upcoming)
Why Natasha's Presentations are Unique
My presentations are unique because not only have I been studying mental illness, most often bipolar disorder, for more than a decade but I also live with the disorder every day. I talk about the realities of mental illness and not what you see on television or in movies. I tell my real story about living with a serious mental illness fearlessly and without a sugar-coat in sight.
Why You Need to Care about Mental Health
Mental health is not an isolated concern. According to the World Health Organization, "One in four people in the world will be affected by mental or neurological disorders at some point in their lives. Around 450 million people currently suffer from such conditions, placing mental disorders among the leading causes of ill-health and disability worldwide."
That means if you don't know someone with a mental health issue today, you absolutely will in your lifetime.
And if you think you're immune because of your socioeconomic status, race, location or gender – think again. Mental illness does not discriminate. Mental illness attacks every group equally.
Mental Health in the Workplace
And mental illness isn't just a serious issue in the community; mental health issues drastically affect the workplace as well. More than one-third of people with serious mental illnesses work. And every one of those people feels the stigma against mental illness that is typical in many workplaces. In fact, it has been found that employers are more likely to hire people with a physical disability than one with a mental illness and more than one quarter would dismiss an employee for not disclosing a mental illness. Moreover, people with mental illness face discrimination from their coworkers as well. Read more about workplace discrimination here.
Employers also lose millions of dollars a year in days taken off from work due to mental health issues – but – some of this can be prevented by improving the work environment. It is everyone's responsibility to create a safe work environment for all employees and that includes people with mental illness.
A presentation on mental illness is a way to squash stigma, defeat discrimination, change the way people think about psychiatric illnesses and highlight how successful people can be in a workplace with or without a mental illness.
Hear Natasha Tracy Speak
Here's is a talk I gave in 2016 about stigma, self-stigma and how we can defeat self-stigma:
Here is a keynote speech about living with bipolar disorder I did as the keynote at the Family Conference in Vancouver, B.C. in 2014. It received a standing ovation:
Hire Natasha Tracy
You can hire me to speak at you office, community organization, school or event. Talks are between one and two hours long, typically. Contact me for availability and pricing.
Click here for a printable brochure on my speaking, including quotes from those who have seen my presentations.
——————————————————————————————————————————————
About Natasha Tracy
Natasha Tracy is an award-winning writer, speaker and consultant from the Pacific Northwest. She has been living with bipolar disorder for 18 years and has written more than 1000 articles on the subject.
Natasha's New Book
Find more of Natasha's work in her new book: Lost Marbles: Insights into My Life with Depression & Bipolar
. Media inquiries can be emailed here.