The Bipolar Burble Blog Gets a Facebook Page
Last night saw the launch of the Bipolar Burble blog Facebook page. In all honesty, I've been meaning to do this for quite a while but couch-contributed inertia slowed me down.  This Facebook page is dedicated to supporting people with a mental illness and all those who love them.
Why a Bipolar Burble Blog Facebook Page?
I created this page in response to the concerns that some people had over the nastiness that was being put on my own Facebook profile. People felt it wasn't a safe space to discuss articles or leave comments and while I try to make the Bipolar Burble blog clutter-free, that's tougher to do on Facebook. Having a Bipolar Burble blog Facebook page, though, makes this task easier, so you can consider the Bipolar Burble blog Facebook page a safe space to comment and discuss mental health topics.
Benefits of the Bipolar Burble Blog Facebook Page
With a page I will be able to blacklist the appropriate people, use additional moderation when needed and try to keep everyone from being attacked, much like I do here. I want my readers to feel safe discussing delicate issues and I know that's hard for some people. I hope this page can help out. The commenting rules for the Bipolar Burble blog Facebook page will be similar to the commenting rules here.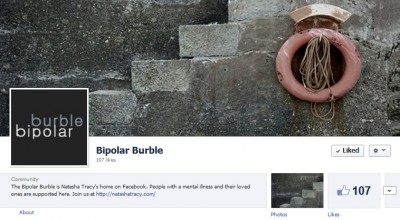 We'll be discussing my articles from the Bipolar Burble blog, Breaking Bipolar on HealthyPlace and Bipolar Bites on Healthline, which might be particularly helpful for people as Healthline doesn't currently have any way to leave comments directly. And, of course, anything else I think is interesting in the mental health world.
Right now on the Bipolar Burble Facebook page we're discussing: Is addiction just like any other mental illness and bipolar disorder in children.
If you have any comments on or suggestions for the new page, I'm all ears.
Join the Bipolar Burble blog on Facebook here.
——————————————————————————————————————————————
About Natasha Tracy
Natasha Tracy is an award-winning writer, speaker and consultant from the Pacific Northwest. She has been living with bipolar disorder for 18 years and has written more than 1000 articles on the subject.
Natasha's New Book
Find more of Natasha's work in her new book: Lost Marbles: Insights into My Life with Depression & Bipolar
. Media inquiries can be emailed here.