Hanging Off the CN Tower and Disabilities
Oddly, I find myself hanging off the outside of the CN Tower, 1168 feet in the air. I can honestly say I'm terrified and can barely glance beneath my feet. But how did I get here and what does it have to do with having a disability?
It's actually a bit of a long story.
The Disability Tax Credit and the National Benefit Authority
If you're an avid reader, you might remember me writing a piece on being denied the disability tax credit in Canada. I was seriously ticked off about this. As a disabled person, I feel that I deserve it. My life is hard enough without having to fight the government for a tax credit with an actual descriptor of me in the title.
A representative from the National Benefits Authority contacted me in response to this article. The National Benefit Authority (NBA) is in the business of helping people get the disability tax credit. They fight the government for you. It's a handy thing to know about, especially if you feel like appealing the government's denial of your application.
After that, for a while I did writing for the NBA. You know, until they decided they didn't need me anymore. This is okay. Clients come and clients go. It's the life of a contractor.
But then something odd happened. Then the CEO of the National Benefits Authority, Akiva Medjuck, called me up and said that I had to go to Toronto and meet him and his staff. I just had to.
Naturally, I thought this was pretty odd from a company that I no longer worked for but it was a free trip to Toronto and I could see my family while I was there so I was in.
And things went pretty, darn well. The NBA flew me out and sent a driver to the airport whose name was Rob and he was "in charge of my fun." Like, seriously. He was there to make sure I had a good time in Toronto. He made restaurant reservations where I wanted to go, ordered transportation wherever I needed and agreed to go on an Edge Walk with me (more on that in a bit) in spite of a severe terror of heights.
And then I met Akiva and some of his staff, and through the trip I met more staff and saw more of the organization and here's what I learned: the people at the NBA really do believe they are helping people with disabilities. They believe they are a family whose job it is to treat people with respect and dignity and help them get what is theirs. Akiva is proud of every cheque he gets to give to a person with a disability. I believe he honestly feels he's advocating for everyone with disabilities – visible or invisible ones like bipolar.
More on the National Benefit Authority
I will say that if you engage this organization, they take 30% of whatever you get from the government. If you get nothing, they charge nothing – much like a lawyer.
Now, the NBA has received some negative reviews over the fact that they take 30% and I get that. I do. But then again, they have also received hundreds of testimonials from very happy clients. I'm not saying you should run out and hire these people — that is not my place to say — what I am saying though is that they definitely provide a valuable service to some members of our community and if you decide to appeal your disability tax credit denial, I would definitely consider enlisting their services.
Also notable is the NBA now has a brand ambassador named Paul Rosen, who I got to hear speak. Paul is a gold medal-winning Paralympic athlete and if you ever had a chance to see a talk by him, you should. His story about losing a leg in his 30s and then competing (and winning) in the Paralympics in his 40s will inspire you, I promise.
Walking Around the Edge of the CN Tower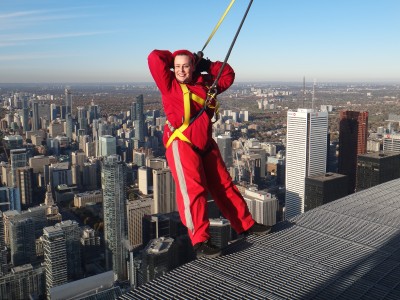 Now, back to the Edge Walk.
As some of you know, I have done around 150 skydives. Some would consider this adrenaline-junkie type behavior. (I wouldn't.) So when I had the chance to walk on the outside of the CN Tower 1168 feet (over 105 stories) in the air, I was totally game. And luckily for me, we had a perfect day for it. The view was unbelievable and we could see clear to the city of Niagara Falls some 80 kilometers (50 miles) away across Lake Ontario.
And I can honestly say I was terrified.
I like to say I was the most scared skydiver ever. I was scared on every, single jump. And while I didn't think walking around the edge of a building – however high – would really freak me out, it did. It is one heck of a trip looking down between your feet and seeing 1168 feet of air.
When you're up there, you do have a guide (and you're strapped to a steel beam via harness, of course) and the guide gets you to do things like stick your toes over the edge of the platform and lean off of the platform over Toronto (both forward and backwards). Believe it or not, these are not easy things to do. Of the six of us (four of the people I didn't know) I would say that only two of us really felt okay about doing it all (and yes, that was me and another fellow). And yes, I do feel a little proud of my performance in spite of all the screaming. (I have yet to see the video but I would be shocked if my screaming wasn't on it.)
Disability note: the Edge Way on the CN Tower is now available for those in wheelchairs. Cool!
What Came Out of My Trip to the National Benefit Authority?
At the end of my visit to the National Benefit Authority we made tentative plans for me to go out again and speak in Toronto. I can't tell you more, but will when plans firm up. Things are getting exciting, for sure.
Full disclosure: the NBA did ask me to write about my trip but they had no influence over what I said about it. These are my honest thoughts, take them or leave them.
——————————————————————————————————————————————
About Natasha Tracy
Natasha Tracy is an award-winning writer, speaker and consultant from the Pacific Northwest. She has been living with bipolar disorder for 18 years and has written more than 1000 articles on the subject.
Natasha's New Book
Find more of Natasha's work in her new book: Lost Marbles: Insights into My Life with Depression & Bipolar
. Media inquiries can be emailed here.