Why Being Diagnosed with Bipolar Disorder Feels Like a Death
I was diagnosed with bipolar disorder about 18 years ago and I can honestly say, that being diagnosed with bipolar disorder feels like a death. It may not feel like it immediately, but, over time, mourning a death is what being diagnosed with bipolar disorder feels like.
When I Was Diagnosed with Bipolar Disorder
The thing about being diagnosed with a serious, lifelong, mental illness is that, at some point, you realize that your life will never be the same. Life after diagnosis with bipolar disorder will never be what life was like before diagnosis. In fact, sometimes I think of like B.B. (before bipolar) and A.B. (after bipolar). B.B. I was a happy, university student, with great grades, who participated in extracurricular activities and who was grateful to be working toward a bachelor's degree. A.B. I was a very messed up, bipolar university student, with no interests, who could barely eke out a C in some classes and had to take an extra year-and-a-half to complete her degree. B.B. things were a whole heck of a lot easier.
A Bipolar Diagnosis Feels Like a Death
The first thing I remember grieving for was a drug-free life. Because of an alcoholic father and other drug addicts in the family, I feared drugs and my own genes that might increase my risk of becoming an addict. So, B.B. I stayed away from drugs. And then, all of a sudden, I had to take them every day. I was terrified that would make me an addict. I wept and wept over what it meant I was becoming.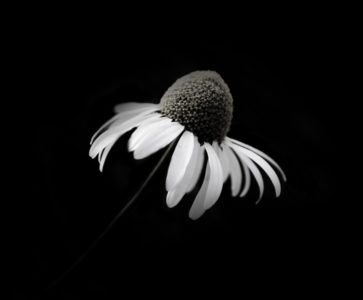 (Of course taking medication for bipolar disorder, or any other illness, does not make you a drug addict, but, at the time, I just didn't understand this.)
And, eventually, I had to grieve the loss of B.B. life.
Doctors told me that I would get that life back.
They were wrong. I never have. I have never gone back to the person I was before the bipolar disorder diagnosis. I never have gone back to the person that had normal emotions and normal reactions to situations. I never have gone back to the person who could just handle things without thinking about them. I never have gone back to the person who didn't need emotional coping skills every second of the day because things just came naturally. I never have gone back to that person.
Grieving the Death that is Bipolar Disorder
As many people know there are several stages of grief. There is denial ("What are you talking about? I don't have bipolar disorder!"). There is anger ("Why the [insert expletive here] did this happen to me?"). There is bargaining ("I promise to pray more and be a good person if the bipolar disorder just goes away.") There is depression (This is wallowing in the sadness that is a bipolar disorder diagnosis – not hard to do being that depression is a part of the illness.). And then there is, finally, acceptance ("I know I have bipolar disorder and I will deal with it to the best of my ability.").
As I have said before, working through the process to acceptance of bipolar disorder tends to be a long one and is different for each person. And, keep in mind, this is not a linear process. Those may be the chunks of grieving but people go from stage to stage, skip stages, revisit stages and generally take a personal journey to acceptance (And some people linger in the other stages for years.).
Why Grieving a Bipolar Disorder Diagnosis Like a Death Matters
But while this process is, to say the least, uncomfortable, it is important. Like I said, I never got the same life I had B.B. back and that is something that is worth grieving. My life was important. My life mattered. And that life was over. It died.
But, as I said, at the end of the grieving process there is acceptance. You might slip out of acceptance now and then, but that is the longstanding stage we all strive for. Because after every death there is a new life. My new life has been very hard, very challenging and something that, sometimes, didn't seem worth it. But it has also be amazing and magical and full of things I likely would never have experienced without being thrust into the A.B. world.
So, yes, I believe that a bipolar disorder diagnosis is like a death, but I also think it's like a birth – a painful, bloody, screaming birth, but a birth nonetheless. Life will be different A.B. but it's still worth having. There are still glories to come.
——————————————————————————————————————————————
About Natasha Tracy
Natasha Tracy is an award-winning writer, speaker and consultant from the Pacific Northwest. She has been living with bipolar disorder for 18 years and has written more than 1000 articles on the subject.
Natasha's New Book
Find more of Natasha's work in her new book: Lost Marbles: Insights into My Life with Depression & Bipolar
. Media inquiries can be emailed here.