Why I Tattooed Over My Suicide Attempt Scars
Last week I tattooed over my suicide attempt scars. This isn't because I wanted to cover every scar on my body – quite frankly, I have tens of self-harm scars – this is for other reasons. Covering specifically my suicide attempt scars with a tattoo is symbolic. I consider it positive and I hope its permanency will remind me of its positivity for the rest of my life.
Suicide Attempt Scars
My suicide attempt scars aren't that big. The specifics of the attempt are why, but aren't worth discussing right now. Nevertheless, every time I looked at my left wrist, I would see them and be reminded of exactly what I did to get them. Their size was not the problem, their strength was. Because, truth be told, I have much nastier scars on my arms and I've chosen not to cover those. (I've chosen to crop them out of the below pictures as well. This isn't because I'm ashamed – I'm not – it's because other people would have a fit about me "triggering" other people. This, of course, is not the intent.)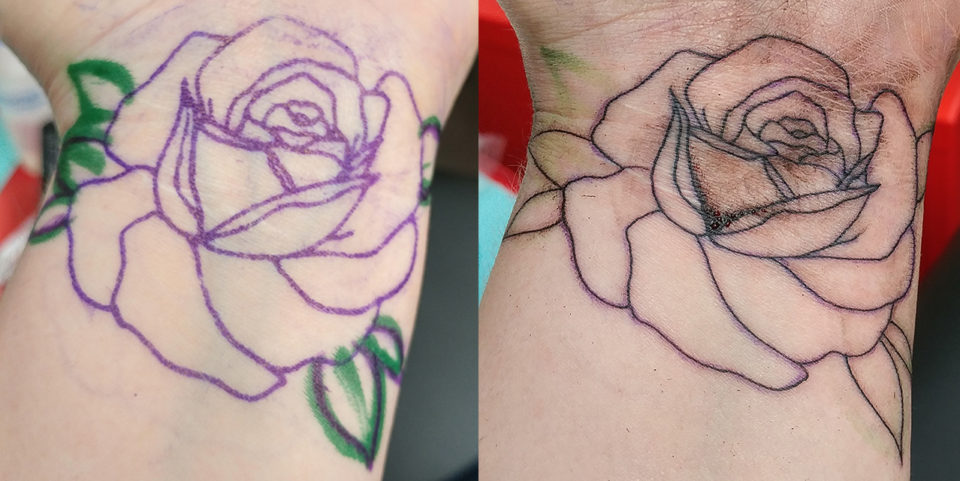 Tattooing Over My Suicide Attempt Scars
I've been thinking about this particular tattoo for years. It's actually my third. I have an ankle tattoo and a stunning back piece of a Tamara de Lempicka painting. Those have their own meanings. But this one is about life and death. Perhaps the weightiest subjects of them all.
A chose a rose to tattoo over my suicide scars because it's a universal sign of beauty. It's a symbol of taking something horrific like a suicide attempt and transforming it into something beautiful.
The red coloring in the rose wasn't originally part of the plan, but, in the end, I added it to represent the blood, bloodletting, death and life. Blood is scary and sexy and the giver – or taker – of life.
And, of course, roses, while beautiful are full of nasty, spiky thorns, much like life itself.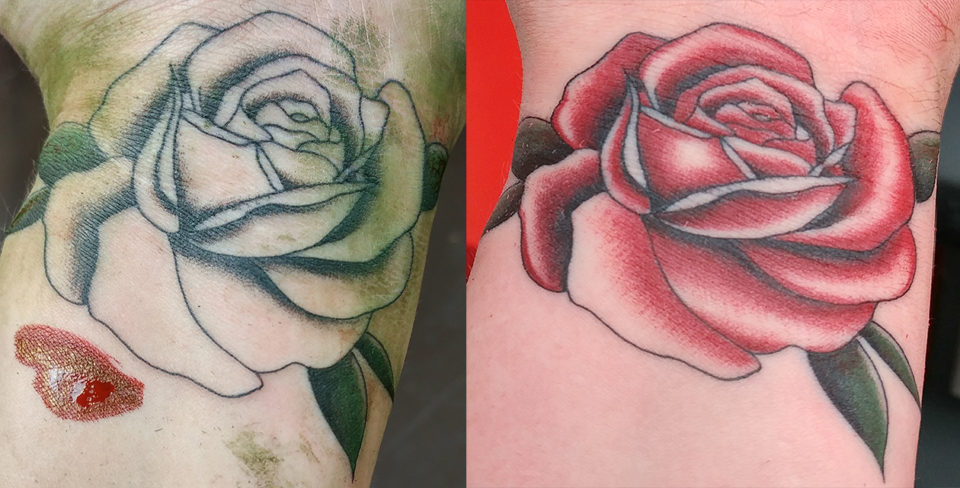 Being Ashamed Over My Suicide Attempt Scars
I'm not ashamed of my suicide attempt scars. They represent the harshest most horrendous of times but they also represent me not succumbing to those times. True, the fact that I didn't die during my suicide attempt was due to many factors, but at least one of those factors was me.
I do not believe that these scars, which are, essentially, evidence of an illness, should be shameful. Suicide scars are there because of mental illnesses symptoms. They are like heart surgery scars. You wouldn't expect someone who had undergone heart surgery to be embarrassed about his or her scars, and we shouldn't be ashamed of ours either.
And Yet I Tattooed Over My Suicide Attempt Scars
This is all to say that while I chose a very meaningful tattoo for me to cover my suicide attempt scars, I'm not saying everyone should run out and do that. People have different relationships with their scars and sometimes having them visible is better.
But, for me, I want to transform my life-threatening moment into something beautiful. And I want to be reminded of this beauty and of my survival every day.
[For anyone who's curious, the piece took about 1.75 hours and hurt like a son-of-a-bitch. The inner wrist is a hugely painful place for a tattoo, and I have a high pain tolerance. I don't recommend it.]
Banner image by Generation Ink: The Underground History of Tattoos.
——————————————————————————————————————————————
About Natasha Tracy
Natasha Tracy is an award-winning writer, speaker and consultant from the Pacific Northwest. She has been living with bipolar disorder for 18 years and has written more than 1000 articles on the subject.
Natasha's New Book
Find more of Natasha's work in her new book: Lost Marbles: Insights into My Life with Depression & Bipolar
. Media inquiries can be emailed here.