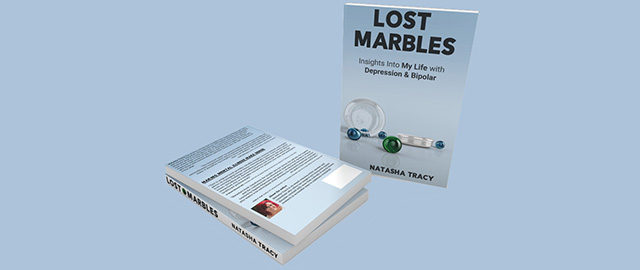 Bipolar Book 'Lost Marbles' Now Available in Paperback and EBook
Today I'm extremely pleased and proud to announce that Lost Marbles: Insights into My Life with Depression & Bipolar is now available in paperback as well as eBook form. Yes, now you can actually hold some of my writings in your hands. I'm not sure if you're excited about this but I am. To buy Lost Marbles click here.
If you're not quite sure if you want the book, check out these reviews from folks like Julie A. Fast, Dr. Prakash Masand and Andy "Electroboy" Behrman. You can also see these 15 Amazon reviews. (These reviews are not paid for, by the way. I know some people do that but I haven't.)
And don't forget to also connect with me on GoodReads to rate the book and ask me questions about the book or being a writer. GoodReads is a great place to be if you love to read as you can get to know authors and get book recommendations based on what you like. Oh, and it's a great place to be for book giveaways (hint, hint).

There will be offers on the eBook and there will be at least one paperback giveaway. Sign up for my newsletter to find out about them, when they're happening and get my free, short eBook on mental illness coping skills:
——————————————————————————————————————————————
About Natasha Tracy
Natasha Tracy is an award-winning writer, speaker and consultant from the Pacific Northwest. She has been living with bipolar disorder for 18 years and has written more than 1000 articles on the subject.
Natasha's New Book
Find more of Natasha's work in her new book: Lost Marbles: Insights into My Life with Depression & Bipolar
. Media inquiries can be emailed here.