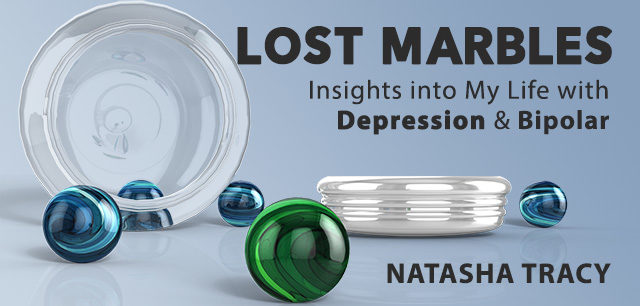 'Lost Marbles' Bipolar and Depression EBook Available NOW
This is very short but very sweet for me.
Lost Marbles: Insights into My Life with Depression & Bipolar is now out in eBook form. Order Lost Marbles from Amazon here. (The paperback will be available mid-October.)
'Lost Marbles: Insights into My Life with Depression & Bipolar' New Reviews
You may have read some of the early Lost Marbles reviews, but just in case you need a bit more convincing, here is what Julie A. Fast has to say:
Natasha's book transforms the terrible into the lyrical, the sad into the hopeful and the confusing into an educational experience that speaks to anyone touched by bipolar disorder symptoms. She knows that learning to manage this illness takes time and a sense of humor. Natasha creates a realistic, stark and always enlightening book. She's aware of the contradictions she presents and offers an honest look at what it's really like to live with this illness. Lost Marbles addresses the questions we all have, but often don't know who to ask for information. What does it feel like to be manic? What is it really like on the psych ward? Is depression forever? Can people with bipolar disorder get better? We learn through her stories of how she finds answers to these questions. I recommend this book for anyone who wants to be entertained while learning the extremely important strategies we all need to live successful, stable and joyful lives.

– Julie A. Fast, author of Loving Someone with Bipolar Disorder, Take Charge of Bipolar Disorder and Get it Done When You're Depressed
And here is Andy "Electroboy" Behrman's take:
The foremost expert on mental health, Natasha Tracy, provides an extraordinarily comprehensive and thoughtfully-researched, well-organized, and accessible book that should not only be very helpful to those with mental illness but also to their friends and family. 'Lost Marbles' will certainly save lives.

– Andy Behrman, author of Electroboy: A Memoir of Mania
I will, of course, announce it as soon as the paper version is available, until then, you can order the eBook version of Lost Marbles now.
——————————————————————————————————————————————
About Natasha Tracy
Natasha Tracy is an award-winning writer, speaker and consultant from the Pacific Northwest. She has been living with bipolar disorder for 18 years and has written more than 1000 articles on the subject.
Natasha's New Book
Find more of Natasha's work in her new book: Lost Marbles: Insights into My Life with Depression & Bipolar
. Media inquiries can be emailed here.