Most Popular Bipolar/Mental Illness Blog Articles of 2014
Last month I did a round-up of dealing-with-holiday-related articles for you and now I'd like to list the most popular bipolar/mental illness articles of 2014 here at the Bipolar Burble.
This list is always an interesting one for me because it tells me what you, my readers, care about. In general, you care about a lot of what I can about but sometimes you surprise me with exactly how much you care about a given subject (and by what doesn't show up on the list).
The Top 10 Popular Bipolar Posts of 2014
10. Bipolar Treatment Fatigue — We start the bipolar post top 10 list with a term I invented. "Treatment fatigue" is a concept that is widely felt but underrecognized. It's when you can't bear undergoing any more treatments because you've just lost faith in bipolar treatments altogether or are tied of the side effects or are exhausted with your doctor or, or, or. I would argue that while these feelings are real, we need to fight bipolar treatment fatigue in order to get better.
9. Accountability for Your Actions with Bipolar — I'm a big believer in accountability and I'm a big believer in not saying, "the bipolar made me do it." Sometimes, bipolar does strongly influence our behavior and sometimes we truly aren't accountable for it, but most of the time this just isn't true.
8. My Bipolar Makes Me Hate Everyone and Everything — This is a bipolar article I wrote just a month ago and was a tough one for my loved ones to read. People really identify with the feelings of hatred in bipolar disorder even though we know the feelings of hate aren't really us.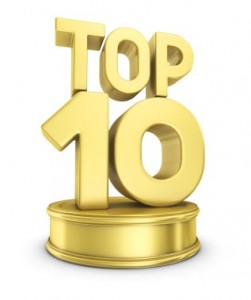 7. Bipolar and Emotional Disconnection — I find that the emotions in bipolar disorder are so painful that a lot of the time I try (subconsciously or consciously) to disconnect myself from them. This leads to a disconnection from others too. This bipolar post also elicited almost 100 comments, so people found it quite the conversation-starter.
6. Calming the Cycle of Anxiety and Bipolar Depression — This is actually a masterful guest piece by Ross Szabo that includes a video (if you're more of a watcher than a reader). If you haven't read his tips for anxiety and bipolar depression yet, you should.
5. I Can't Have Bipolar, I'm High-Functioning, I Have a Job — This article addresses the myth that all people with bipolar disorder are jobless and low-functioning. Many people with bipolar have families, jobs, friends and all the rest of it. Just because you're high-functioning doesn't mean you can't also have a mental illness.
4. Coping with Bipolar Emotions Using Logic — Coping with bipolar emotions using logic is something I do every day and something I highly recommend. It's part of seeing and working with the brain-mind split. It's your mind talking back to a faulty brain and trying to talk its irrationality down. Sometimes it works and sometimes it doesn't but it's always worth a try.
3. Depression, "I'm Happy for You" When You Can't Feel Happy — When depressed, this is a big problem for me and apparently thousands of you too. When I'm depressed I want to be happy for others and share in their joy, but I can't because I can't feel happy at all for me, let alone for another person.
2. What You Need to Know When Your Loved One Commits Suicide — Death by suicide is brutal on those left behind. If someone you love has died by suicide, read this.
1. The Value of Rest in Bipolar Disorder — This is s surprising number one, but I will say that when I give talks to groups, I always say that sleep is probably the number one influencer on mental health. Apparently, many of you would agree with this.
What Should Have Made the Top 10 List of 2014 Bipolar Posts but Didn't
Not to disagree with my readers, but I think you missed one. I think this bipolar article is critical because half of all people with bipolar disorder will attempt suicide at some point:
Most Popular Bipolar Posts of All-Time
And, just in can you were wondering, the most popular post in all of the Bipolar Burble's history is:
How a Person with Bipolar Thinks — Yup, some people will tell you that generalizes an entire population. This is true and we're not all the same but people with bipolar highly identify with these thought processes.
And the most, ever commented-on post is (probably for the third year running):
When You Leave Someone with a Mental Illness — People pop by this very popular, controversial post to tell me they're disgusted with me and to tell me that they've found great relief in it. It really depends on whether you've been abused by someone with a mental illness, I suspect.
Thanks to the Bipolar Burble Readers
As always, I thank my Bipolar Burble readers. You guys are the best and I know that even when I'm having a hard time, you'll be there. That's a great comfort to this professional crazy person.
——————————————————————————————————————————————
About Natasha Tracy
Natasha Tracy is an award-winning writer, speaker and consultant from the Pacific Northwest. She has been living with bipolar disorder for 18 years and has written more than 1000 articles on the subject.
Natasha's New Book
Find more of Natasha's work in her new book: Lost Marbles: Insights into My Life with Depression & Bipolar
. Media inquiries can be emailed here.