The Value of Rest in Bipolar Disorder
I've been super stressed lately. I have so many deadlines and I've been working on so many projects and I have so many requests to process it's unbelievable. And, in clear Natasha fashion, many of these things were left to the last minute due to time constraints (and admitted procrastination). Oh, and it was my birthday on Monday which I nary had a moment for.
On top of all that, I had a speaking engagement yesterday. This speaking engagement was for the Bipolar Disorder Society of British Columbia. I do many presentations for them but recently the presentation was changed at their request. No problem, but trying out this new material and fitting it into the existing timeline (which can already run long) was making me nervous. And, while usually I give this presentation to teens, this time I was giving it to teachers. This, too, was making me nervous. Teachers can be a bit critical – trust me.
Really, there was no reason to be nervous, but, secretly, I'm nervous before pretty much every speaking engagement. Luckily, no one ever knows this (except, of course, for you) but the nerves are there.
My "Normal" Bipolar Anxiety Plus Massive Stressors
So, you put my "normal" bipolar anxiety with the massive stress I was under, plus the nerves I was feeling and my anxiety was off the flipping charts.
And when things are like that, I know that one of two things will happen. The stress and anxiety will either make me hypomanic or depressed. In other words, massive stress will destabilize my mood. Period. Yes, I know it's coming, and yes, I do it anyway. Just call me an overachiever (or masochistic).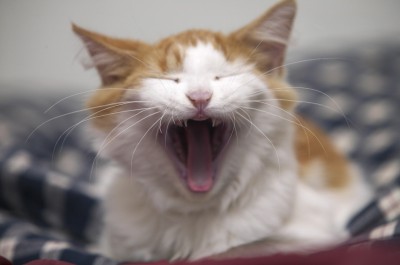 So yesterday, when I got home from my speaking engagement I was both very tired and hungry. I chose the two needs that I prefer – rest (slash sleep). I curled up on my couch, with my cat's nose about two inches from my own, and closed my eyes and rested. I actually fell asleep, which almost never happens.
My eyes surprisingly popped open about 70 minutes later (and no, people with bipolar shouldn't be napping – sue me) and I actually wasn't feeling too bad.
The rest had, in fact, made things better. The rest had revived me. The rest, seemingly, reduced the impact of all of that stress and anxiety.
The Value of Rest in Bipolar Disorder
And amazingly, when I woke up this morning, I was neither hypomanic nor particularly depressed.
Huh. That rest thing had really worked.
This reminded me that I absolutely need to make time for some serious resting moments. I'm actually pretty good about this, but occasionally, when stress takes hold, I forget about it, or my anxiety seems to make it impossible to rest. And, admittedly, lying on the couch not doing anything productive does feel like a waste of time very often.
But, if rest can reduce bipolar mood dysregulation, then I'm all for it and I consider this to be an excellent reminder and lesson: rest in bipolar disorder is good. Let's all remember this people and make time for the rest we need. We'll thank ourselves for it.
——————————————————————————————————————————————
About Natasha Tracy
Natasha Tracy is an award-winning writer, speaker and consultant from the Pacific Northwest. She has been living with bipolar disorder for 18 years and has written more than 1000 articles on the subject.
Natasha's New Book
Find more of Natasha's work in her new book: Lost Marbles: Insights into My Life with Depression & Bipolar
. Media inquiries can be emailed here.