Truehope/EMPowerplus Experience at Week Five
It's been quite a while since I've done a Truehope/EMPowerplus update. I had planned on more of them, initially, but when nothing major happened, I didn't have much to report. I have come to some conclusions about my Truehope/EMPowerplus (what is Truehope/EMPowerplus) experience at five weeks, however, so I'll share them below.
Does Truehope EMPowerplus Do Anything?
It's my opinion that the Truehope/EMPowerplus does do something. I've had enough of a reaction to the supplement to say that I believe it to be active, and not just a placebo. So I'd say if you're going to use this stuff, you should be prepared for some reaction, even if it's not the reaction that you want.
What Does Truehope/EMPowerplus Do?
Of course, this varies by person and this is only my experience. In my experience, according to my perception and my thorough mood tracking during this time:
The supplement can cause hypomania and cycling (extremely rapidly for me)
This supplement can increase anxiety
This supplement can increases the perception of stress (goes along with anxiety)
This supplement can destabilize mood in general possibly leading to a trend of more depression
This supplement can increase energy
This supplement can cause mid-night awakenings
As to what you might call physical side effects? Nothing that I noticed.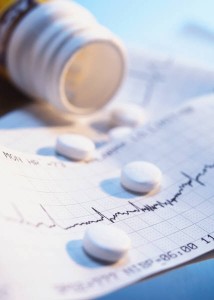 All of this is similar to what you would see with monotherapy with antidepressants (contraindicated) in bipolar disorder. Coincidence? I suspect not. Now, I can't tell you why the Truehope/EMPowerplus supplement has caused these reactions in me, I can only say that it has.
This experience does go right along with what my psychiatrist has seen in other patients as well but his observed reactions were far more dramatic as the ones he has seen have been in people with bipolar I. (To remind you, he saw induction of bipolar mania and psychosis.) So, for me, mood stabilization isn't necessarily a level 10 experience, but it certainly may be in others.
(No, I didn't go off my drugs. In no way do I think you have to for a supplement to work. In fact, if there ever are studies on EMPowerplus, I can pretty much guarantee you, they won't make people go off their psychotropic medications to take part.)
By the way, once I do go off of this, I'll watch for a reversal in pattern, or a continuance in pattern and try to determine if the EMPowerplus was having any mood effect.
Do I Recommend Truehope/EMPowerplus?
I didn't recommend this product when I started taking it and, for so many reasons, I still don't (although, keep in mind, I'm not in the habit of recommending anything). Some things I hate about it:
No double-blind, placebo controlled studies (evidence) of effectiveness
They insist people get off their psychiatric medication
I consider their documentation to be misleading, burgeoning on outright lying (I plan on another article on this)
No one knows exactly knows the amounts of what's in the stuff
No Food and Drug Administration (or other) regulation or assurance of ingredients or quality
What I like about it? Very little. The lack of side effects is nice, but it's probably not worth it for many considering the possibility of the destabilization of mood.
I actually consider this stuff and the company dangerous. I actually think that people who take the supplement and follow their advice to be in real danger of a very bad mood outbreak. That being said, that's just my opinion, so take that for what you feel it's worth.
In the long and short of it, it didn't work for me. Your mileage may vary.
* In an aside that a few people may care about: initially I purchased the product off their website but after talking to the CEO, he refunded my purchase price. I didn't request this but I didn't refuse it either.
——————————————————————————————————————————————
About Natasha Tracy
Natasha Tracy is an award-winning writer, speaker and consultant from the Pacific Northwest. She has been living with bipolar disorder for 18 years and has written more than 1000 articles on the subject.
Natasha's New Book
Find more of Natasha's work in her new book: Lost Marbles: Insights into My Life with Depression & Bipolar
. Media inquiries can be emailed here.