Support for Bipolar Disorder – Will You Be Okay Tonight?
Yesterday I got the news that I'm losing one of my best friends of 16 years. He's someone I've known pretty much since birth. He's giving and loving and very furry. He's my cat.
And while I can understand that not everyone will fully comprehend the bond between a human and animal, you will just have to take my word for it that the news put me into shock and I am now grieving what will very soon become a physical loss.
And, of course, a trauma like this (yes, it is a trauma) will make my bipolar disorder blow up. Bipolar makes grief worse and grief makes bipolar disorder worse.
Bipolar Disorder and Suicide – "Will You Be Okay Tonight?"
So, last night, I called my friend and told her the news and said that I couldn't stop crying. My cat has cancer and the vet says that one day very soon he will stop eating and that will be when the time is right to euthanize him so that he doesn't have to live out the end of his life in pain. The details of when and what and how and what to do with his ashes and if I should be holding him in his last moments and whether it should be done at home are swirling in my mind.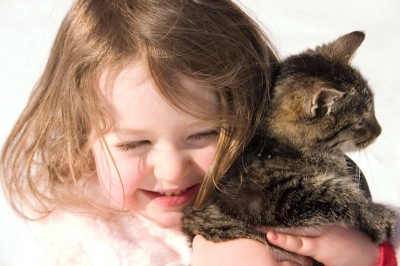 And so my friend, very lovingly, said to me, "Will you be okay tonight?"
She knows. She knows that things like this make bipolar blow up. She knows that things like this can make a person like me suicidal.
Now, as it happens, I am actually on quite a good bipolar medication cocktail right now and I can honestly say that I'm not suicidal – even though I am sobbing pretty much constantly. But I must say that I was unbelievably touched that my friend would ask me if I would be okay last night. It showed in such a genuine and honest way that she cares about me. And gosh, that fact alone would bring a few tears.
How to Support Someone with Bipolar or another Mental Illness
Do you (to those with or without a mental illness) know how powerful it is to know that someone cares about you that much? Just in that moment, I felt loved and held and like I could get through this mess because someone would be there for me.
People are always asking me how to help and support a person with bipolar disorder or another mental illness.
That is how.
It is offering to be a support when they don't even ask. It's understanding that things could be worse for the person with the mental illness than they would be for an average person and not judging them for that. It's by offering your love and your caring and your time. That is how you help someone with a mental illness.
So, I'd like to say "thank you" to my darling friend who would do such a thing and thank you to everyone out there who I know have done it for others. We love you. We couldn't do it without you.
——————————————————————————————————————————————
About Natasha Tracy
Natasha Tracy is an award-winning writer, speaker and consultant from the Pacific Northwest. She has been living with bipolar disorder for 18 years and has written more than 1000 articles on the subject.
Natasha's New Book
Find more of Natasha's work in her new book: Lost Marbles: Insights into My Life with Depression & Bipolar
. Media inquiries can be emailed here.