Improve Your Bipolar Quality of Life – Tools by CREST.BD
Bipolar quality of life has been measured in many ways but, in my experience, doctors tend to look at it like this: you can make your rent, you eat, you bathe – good enough.
Now, I don't know about you, but I consider this extremely insulting. I mean, if doctors only measured their own quality of life in that way I think they would find that they had no "quality of life" at all. They really should understand that there is so much more to life than merely eating, showering and paying your rent.
Additionally, I feel that measuring quality of life in bipolar is important to truly see where you treatment is working and where it may be falling down and can be improved.
A Holistic View of Quality of Life with Bipolar by CREST.BD
So, the researchers at CREST.BD (a collaborative research team put together to study the psychosocial issues in bipolar disorder) have developed a much more holistic view of bipolar quality of life and have even developed a tool to measure your own quality of life with bipolar. It's really quite amazing and it was created with the input of real people with bipolar. They break bipolar quality of life down into 13 areas:
Physical
Cognition
Leisure
Spiritual
Money
Home
Self-esteem
Independence
Identity
To measure your quality of life with bipolar disorder, all you have to do is sign up, take a short survey (it doesn't take long to complete) and then the system outputs your results in graph and numeric forms.
Results from the Measuring the Bipolar Quality of Life Tool
My results from the bipolar quality of life tool was this: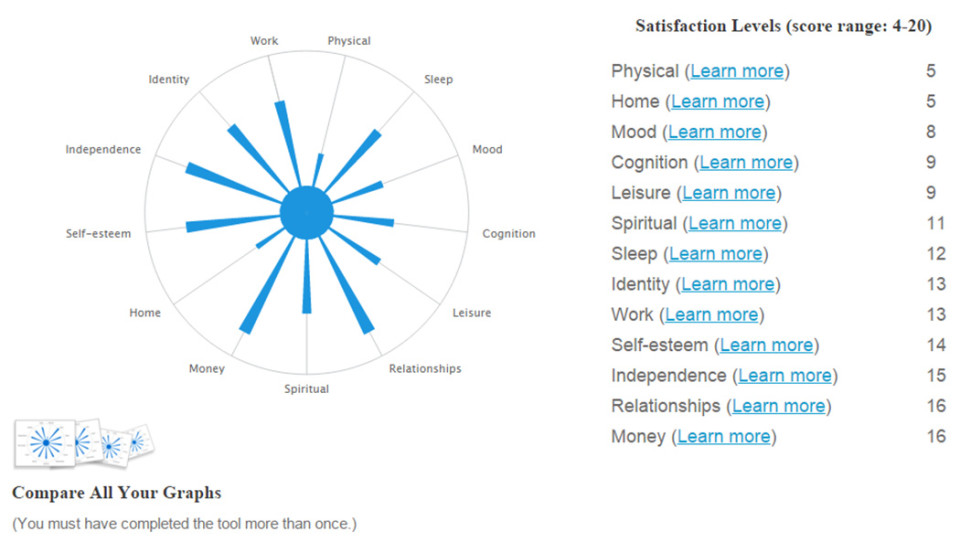 As you can see, the quality of life satisfaction levels are measured from 4-20 and I scored a 20 on nothing. I could have told you my quality of life wasn't great before using the tool, but this tool has helped me to identify the exact areas of life that could use improvement.
The bipolar quality of life tool also has a letter for you to provide to your doctor along with your results so that you can discuss them and determine how you can make things better. The system will also track your quality of life over time so you can see where you've improved.
Improve Your Bipolar Quality of Life with the Bipolar Wellness Center
But CREST.BD didn't stop there. CREST.BD is also providing everyone with oodles and oodles of evidence-driven resources that can help you improve your quality of life with bipolar in their Bipolar Wellness Centre. The videos, webinars and other materials are divided up into the 13 areas seen above; so, if you're like me, and feel your physical quality of life is poor, you can go and just see resources for that area of quality of life.
What CREST.BD does truly is ground-breaking and all their tools have been created with major input from people with bipolar disorder. This is not an academic exercise, this is something that can really help real people and real bipolar quality of life. I highly recommend you check these tools out.
* Note: I have no formal affiliation with CREST.BD but do, genuinely, think they're great.
——————————————————————————————————————————————
About Natasha Tracy
Natasha Tracy is an award-winning writer, speaker and consultant from the Pacific Northwest. She has been living with bipolar disorder for 18 years and has written more than 1000 articles on the subject.
Natasha's New Book
Find more of Natasha's work in her new book: Lost Marbles: Insights into My Life with Depression & Bipolar
. Media inquiries can be emailed here.