Bipolar Disorder and Intimate Relationships
The Bipolar Burble welcomes Ka Hancock, a psychiatric nurse and author of Dancing on Broken Glass, a book that delves into issues relating to bipolar disorder through a captivating story. Ka shares with us her thoughts on bipolar disorder in relationships. Leave a comment to be entered into a draw to receive a signed copy of Ka's book.
Tell us about how Dancing on Broken Glass portrays bipolar disorder in relationships.
Dancing is the story of a marriage. Mickey Chandler has a history of bipolar disorder and a family history of mental illness. In his mind, he is his diagnosis until he meets Lucy, a woman who sees him as so much more.
Mickey Chandler has his self-worth wrapped up in his diagnosis, do you think this commonly happens in people with bipolar disorder?

I don't want to make that assumption or generalization. Human beings are very complex creatures and each comes with his own set of beliefs and self-concepts. People perceive their self-worth based on a variety of factors. My character grew up with a mentally ill mother and a father who did his best to deal with her but was frequently missing in action. So Mickey's childhood was rife with a lot of angst and chaos. His mom committed suicide when he was not even 12 years old. If you just stop there, it would go far to explain Mickey's self-concept. Add in the fact that he too has a serious and challenging mental illness which rather terrifies him, one can understand how he might see himself as damaged and unworthy or simply incapable of what he supposes to be a normal life. What he did not fully believe until Lucy came into his life was that he was much more than this.
How does this impact relationships?
The impact of mental illness can be huge on a relationship. As readers of Natasha's fine blog know, bipolar disorder does not always play by the rules. A person can do everything right—meds, therapy, journaling, mood and behavior self-monitoring, etc. and still fall off the rails. The results can be devastating. Getting involved with anyone—mentally ill or not—is a choice that should be made carefully. And understanding the complexity of bipolar disorder seems like a no-brainer if you're going to be involved with someone who suffers from it. Same goes for the person suffering from this disorder. The relationships that survive this particular challenge have developed great insight, they don't get lost in denial, and they have reasonable expectations of themselves and their partner.
What experiences did you draw on to write the relationship in the book? What has this taught you about relationships and bipolar disorder?
I am a psychiatric nurse. I do not suffer from bipolar disorder so I drew from the examples of others. It's very humbling in a therapeutic setting to witness the enduring love between two people, one of whom is having an exacerbation of mental illness. By the same token, it's heartbreaking to watch families and relationships be destroyed by this illness. The truth is every relationship is unique and what might wreak havoc in one, in another it deepens the determination to succeed at very difficult challenges.
If a person with bipolar is wrapped up in their diagnosis, what can a loved one do to help them?
Recognize the level of danger and act in accordance despite angry objections—in other words don't doubt your instincts. Be actively involved in your loved-one's therapy and utilize that resource when needed. Be patient through crises and supportive through depressive episodes. Medication should be non-negotiable. Substance abuse should not be tolerated—I don't need to tell anyone that frequents this blog that bipolar disorder coupled with chemical dependency is a wicked combination.
Do you think a happy and healthy relationships is possible when one person has bipolar disorder?
The short answer is yes.
The longer answer is; it depends on the underlying character of the individuals involved as well as their level of commitment. Nobody gets a pass here, both parties must bring their best selves to the relationship. The one diagnosed must be motivated and treatment oriented. The significant other must have understanding, patience and a great capacity to forgive. Most importantly, they need to know what they're dealing with. Episodes of mood instability can be overwhelming not just for the one diagnosed, but for the loved-ones as well. It's important to have support and outlets. A mentally ill person need not beget a mentally ill relationship.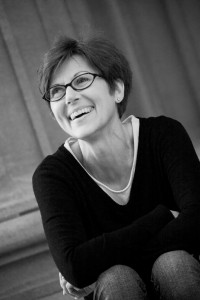 Author's Bio
Ka Hancock is a psychiatric nurse still working 20 hours a week who lives and loves in Utah. She married her high school sweetie and has four grown kids with families of their own. Ka has been writing since she could read. A few years she get serious about it and the result is Dancing on Broken Glass. Ka thinks the most interesting people are the complicated ones.
Ka has graciously agreed to give away two copies of her book to Bipolar Burble readers. Leave a comment below to be entered into a draw to win one!
——————————————————————————————————————————————
About Natasha Tracy
Natasha Tracy is an award-winning writer, speaker and consultant from the Pacific Northwest. She has been living with bipolar disorder for 18 years and has written more than 1000 articles on the subject.
Natasha's New Book
Find more of Natasha's work in her new book: Lost Marbles: Insights into My Life with Depression & Bipolar
. Media inquiries can be emailed here.