Disallowing Depression Misconceptions – Newspaper Response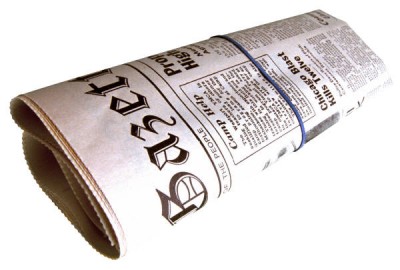 Last week many people read my article Disallowing Depression Misconceptions containing critical remarks about a piece in West Virginia University's school paper, The Daily Athenaeum. The piece was entitled Depression can be treated through lifestyle changes and suggested, among other inaccuracies, that all people needed to help depression was, "a walk in the park."
I found Depression can be treated through lifestyle changes to be stigmatizing and just plain inaccurate and I said so both here at the Bipolar Burble and in the comments on The Daily Athenaeum's website as well. I'm pleased to say many of my readers also stopped by to express rather notable disapproval of the article.
The Daily Athenaeum's Response to Criticism
And so what did The Daily Athenaeum do?
They removed all comments from the piece and disallowed new ones.
What a disappointing reaction. Instead of admitting to a mistake, instead of printing a clarification or reaction, instead of responding to all the concerns, the newspaper did the most dishonest thing I can think of doing – they covered it up.
This is unacceptable.
How dare a newspaper conceal legitimate concerns and silence criticism? That is the very antithesis of journalistic ethics. I don't know what this newspaper thinks it's teaching its staff, but it certainly isn't how to be a good reporter or writer.
I will be writing The Daily Athenaeum a letter detailing why I feel this is unacceptable and I encourage others to do the same. We, the mental illness community cannot let stigma-spreading inaccuracies to be swept under the rug. We cannot allow our voices to be silenced.
Is a Newspaper Article on Depression in Some University Newspaper a Little Thing?
Maybe. But it's the principle. This newspaper doesn't have the right to silence feedback just because they don't like what we have to say. We have voices. And we will keep exercising them.
Contact the Daily Athenaeum
For anyone who would like to contact the Opinion columns editor you can email DAPerspectives@mail.wvu.edu or call (304) 293-5092 ex 4.
The Daily Athenaeum is also on Twitter and on Facebook.
For anyone who may be interested, here is a list of every email address they have on their website, I sent my email to all of them:
DAnewsroom@mail.wvu.edu; DAPerspectives@mail.wvu.edu; DASports@mail.wvu.edu; DAA&E@mail.wvu.edu; Erin.Fitzwilliams@mail.wvu.edu; John.Terry@mail.wvu.edu; Alex.Koscevic@mail.wvu.edu; Mackenzie.Mays@mail.wvu.edu; Lydia.Nuzum@mail.wvu.edu; James.Carvelli@mail.wvu.edu; Ben.Gaughan@mail.wvu.edu; Berry@mail.wvu.edu; Jeremiah.Yates@mail.wvu.edu; Jakob.Potts@mail.wvu.edu; Charles.Young@mail.wvu.edu; DACalendar@mail.wvu.edu; Matthew.Sunday@mail.wvu.edu; DA-Editor@mail.wvu.edu; BoFisher@mail.wvu.edu; Kyle.Hess@mail.wvu.edu; Alan.Waters@mail.wvu.edu; Pam.Dodson@mail.wvu.edu; chris.mcelroy@mail.wvu.edu; Jami.Christopher@mail.wvu.edu; roy.batesr@mail.wvu.edu; danewsroom@mail.wvu.edu
As a Side Note
an institution for the promotion of literary or scientific learning.
Apparently their name is to be taken with a grain of salt.
Update
The Daily Athenaeum has bowed to pressure and reinstated comments on their article. I will continue to push to have them address our concerns.
——————————————————————————————————————————————
About Natasha Tracy
Natasha Tracy is an award-winning writer, speaker and consultant from the Pacific Northwest. She has been living with bipolar disorder for 18 years and has written more than 1000 articles on the subject.
Natasha's New Book
Find more of Natasha's work in her new book: Lost Marbles: Insights into My Life with Depression & Bipolar
. Media inquiries can be emailed here.