Self-Harm: Stabbing Yourself is Bad
Stabbing is bad. It just is. If you have to pick self-harm options between cutting, hitting, and stabbing, don't pick stabbing.
Unless you're trying to kill someone, in which case I think stabbing would be pretty good. And satisfying. I'm surprised more murderers don't pick stabbing.
Anxiety, Impulse Control Self-Harm and Stabbing
I'm having anxiety issues. And impulse control issues. And stabbing issues. Well, that last one is really a function of the other two, but it's an issue nonetheless.
I've always been attracted to stabbing. I think that's because when you start wielding a blade with force, you can't change your mind. And it's so easy to did deep. And draw a lot of blood.
Stabbing and Scars
And as I considered stabbing, I also thought it had the advantage of leaving a minimal scar. You cut down, not across.
This turns out not to be the case. Stabbing doesn't produce a large incision, but the one it does produce tends to gape and cause more scarring than you think. Just trust me. Don't try it.
And so, as much as I like the force, and blood, and bruising associated with stabbing, I've really written it off as a self-harm method. Death method, probably decent, self-harm, not so much.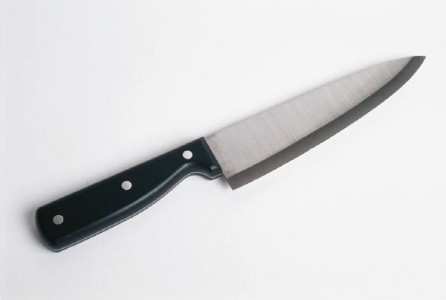 Self-Harm, Stabbing is Bad
But as I've said, I've been having issues.
For whatever reason, for whatever cocktail, for whatever brain misfire, I seem to be turning in super-anxious-suicide-girl at night. Like, way more than usual. And on top of that there seems to be a real lack of impulse control on my part, last notably seen with the cutting of my wrist with broken glass.
Hitting is Bad Too
And so I had been hitting myself with a blunt object, went into the kitchen to cut up a yellow pepper, and then as I was removing the core I thought to myself, I wonder what it would be like if I hit myself with this knife. And then I just did. And then there was a lot of blood. I was standing next to the sink so I just tried to keep standing while the blood went down the drain.
It just kind of, happened. Like stubbing your toe. An accident.
And it's fine. My arm is fine. There does seem to be some nerve damage going into my thumb, but it seems minor and may get better, I don't know. This isn't really my area of expertise.
Self-Harm Without Control is Really Bad
And I don't know. It's a scary thing. To do something, without intention. One of the problems is I really don't care if I die. I mean, like, really don't care. I'm so over it's unbelievable. So when something pops into my head, whatever filter I did have doesn't exist. So I just do it.
And then there's the drinking. Crazy people shouldn't drink. Crazy people on meds really shouldn't drink. Crazy people on meds and tranquilizers really, really shouldn't drink. But I feel so irreparably horrifically self-loathing and suicidal that I couldn't care less that it's a bad idea. I'll take any idea at all that would mask the pain. Even a little.
Sigh. All roads lead to scar tissue.
Again, try not to worry, OK? You're scared, I know. I am too. But there's nothing you can do. There's nothing I can do. I'm suppose to see my GP on Monday and maybe she'll be able to get me in to see a psychiatrist. Of course the psychiatrist won't have any answers so it's a bit moot. More moot than usual. Ultra-moot. Now with more brightening power.
——————————————————————————————————————————————
About Natasha Tracy
Natasha Tracy is an award-winning writer, speaker and consultant from the Pacific Northwest. She has been living with bipolar disorder for 18 years and has written more than 1000 articles on the subject.
Natasha's New Book
Find more of Natasha's work in her new book: Lost Marbles: Insights into My Life with Depression & Bipolar
. Media inquiries can be emailed here.