Managing Bipolar Depression: An Evidence-Based Approach – Free Webcast
There's a lot to know about bipolar and bipolar depression. How do I know? Because I've written about bipolar depression so many times it would make your head spin.
And what I try to do is either present the human side of bipolar depression or the evidence-based side. Here are a few of the articles I've written on bipolar depression:
Well now I, and you, have the (FREE) chance to get a genuine look into bipolar depression from an evidence-based approach through the words of a leading psychiatrist.
Free Webcast on Managing Bipolar Depression
Here is the information on a FREE webcast by doctors (technically, for doctors) and Global Medical Education on an evidence-based approach to treating bipolar depression. I believe there will be a lot to learn here.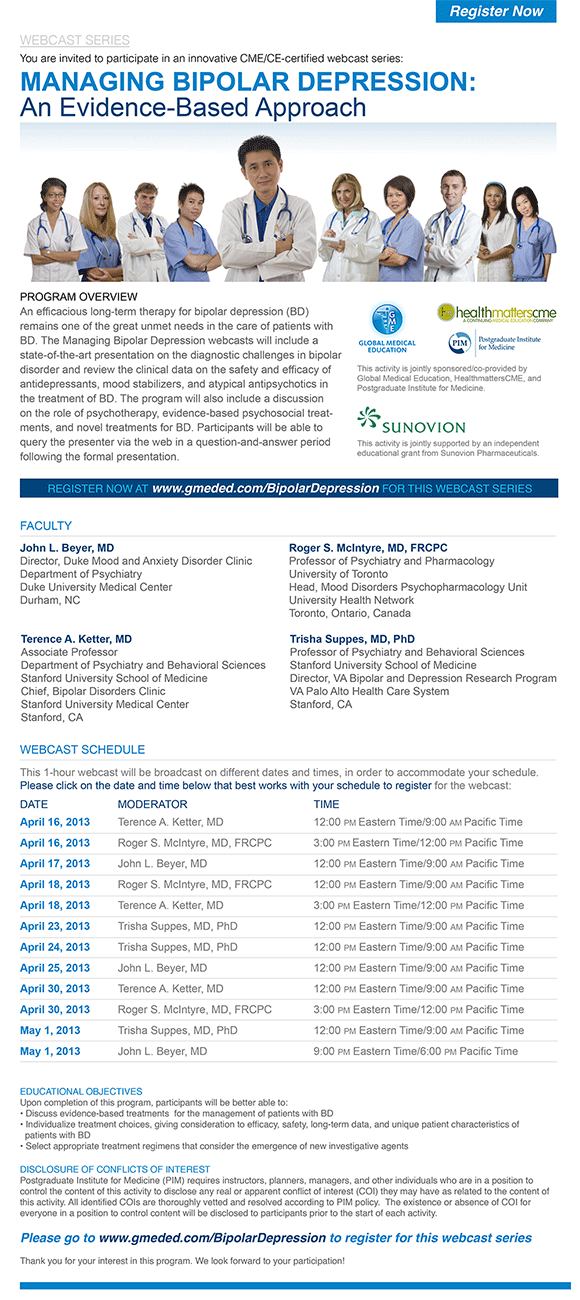 The owner of the sponsoring site (Global Medical Education) is a client of mine, which is how I know about the series and know that it really is absolutely free. I recommend you go register right now because while I'll probably bring you the highlights, there's nothing like hearing information from psychiatry-leading experts.
(And, in case you were wondering, no, I don't make anything off of your registration or by putting this post up, I just thought that we all should have the opportunity to learn something.)
——————————————————————————————————————————————
About Natasha Tracy
Natasha Tracy is an award-winning writer, speaker and consultant from the Pacific Northwest. She has been living with bipolar disorder for 18 years and has written more than 1000 articles on the subject.
Natasha's New Book
Find more of Natasha's work in her new book: Lost Marbles: Insights into My Life with Depression & Bipolar
. Media inquiries can be emailed here.