I Hate Myself for Having Bipolar, I Forgive Myself for Having Bipolar
Bipolar disorder feels like a curse. It feels like somewhere, somehow, I've ticked off an old, horror-movie, crone and she's cursed me to 1000 years of suffering. 1000 years of grating, clawing, slicing, pounding agony.
Any why do people get cursed? People get cursed because they did something wrong. I must have done something wrong. I must have done something unspeakably wrong. And I hate myself for it.
I Hate Myself for Having Bipolar
It's the crazy, bipolar thoughts in my head, I know, but they tell me that I'm bad – I must be because I have bipolar disorder. Having bipolar disorder proves that I did something wrong. Why else could I possibly have to endure this life? This life of suffering? This life of tears and sorrow and pain and loneliness and general fucked-up-edness.
Being bipolar feels like being deficient. And who wouldn't hate themselves for being this altogether deficient.
Swirling Bipolar Thoughts of Hate
These are just a tiny smattering of the thoughts that haunt me. On the bad days, they overwhelm me. On the bad days they convince me of my self-hatred and they drive me to consider the only way of rectifying the problem – suicide.
But the truism about thoughts of hate is that they aren't true and they are counter-productive. We have to forgive ourselves for our bipolar, for our perceived deficiency, if we are to move forward.
I Forgive Myself for Having Bipolar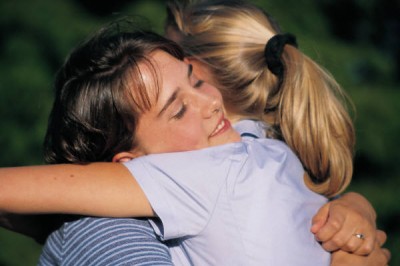 Now, I realize that I've done nothing wrong. I realize that life happens. Bipolar happens. Bad things happen to the best of people. So there is, natrually, nothing to forgive.
That doesn't mean there isn't need, or at least use, for forgiveness though.
Because even if the deficiency isn't real per se, and even if there is no fault per se, it doesn't mean that real forgiveness isn't helpful. It's our own brains perceiving the sin and it's our own brains that can release that by offering forgiveness.
So, on the worst of days, when it all feels like it's over, futile and useless, I remind myself of forgiveness. I remind myself that I deserve forgiveness as much as any other human being. I remind myself that the bipolar isn't my fault and that I didn't do anything wrong. I remind myself that the forces that messed up my brain were not out to get me, they just were.
And I remind myself of these things so I can move on. Because it takes a lot of work to fight the bipolar, I don't need to fight myself at the same time.
——————————————————————————————————————————————
About Natasha Tracy
Natasha Tracy is an award-winning writer, speaker and consultant from the Pacific Northwest. She has been living with bipolar disorder for 18 years and has written more than 1000 articles on the subject.
Natasha's New Book
Find more of Natasha's work in her new book: Lost Marbles: Insights into My Life with Depression & Bipolar
. Media inquiries can be emailed here.