Suicide and Suicide Attempt Resources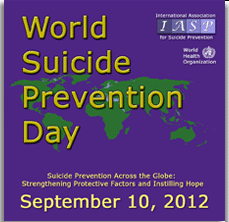 Over the last couple of years I have written a lot about suicide. It's a big topic and one of great importance to the mental illness community and, I believe, society at large. As today is World Suicide Prevention Day I wanted to present a round-up of all the suicide and suicide attempt resources I have written over the years.
Please use these to help others or help yourself. Not one more person ever needs to die of suicide.
Suicide Prevention
Thinking About Suicide
Suicide Threats
Suicide Attempts
——————————————————————————————————————————————
About Natasha Tracy
Natasha Tracy is an award-winning writer, speaker and consultant from the Pacific Northwest. She has been living with bipolar disorder for 18 years and has written more than 1000 articles on the subject.
Natasha's New Book
Find more of Natasha's work in her new book: Lost Marbles: Insights into My Life with Depression & Bipolar
. Media inquiries can be emailed here.