Holiday Hangover – I'm Too Tired to Tell You How I Feel
A large part of what I do as a writer is explain to people what it feels like to have bipolar disorder. I explain and I explain and I explain what it is to have a sick brain. I explain and I explain and I explain what it feels like. What it lives like. Honestly, it's a tall order at the best of times.
But now, after the holidays, after family, after time away, I am way too tired to tell you what it feels like to be bipolar.
Some like the Holidays
Yes, I get it, some people like the holidays and family and times away. I am not one of these people. If it were up to me, I would just let the holidays pass without a word. Really, you run along and fa la la all day long while I just take a nap and work on my book.
But the holidays aren't like that, now are they? The holidays are crushed by what we must do for the people around us and not so much what we would do for ourselves. I don't like it and I don't recommend it, but there it is.
The Holidays Exhaust Me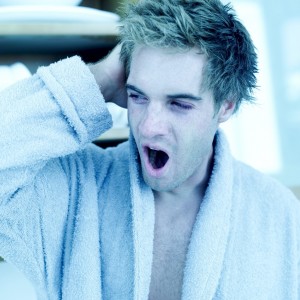 I find being around people 24-hours-a-day exhausting. Like, I mean tiring on a cellular level. It forces me to act normal all the bloody time. I can't relax. My brain cannot calm. Not for a second. Because I'm too busy trying to act like I'm not a person with bipolar disorder. I'm too busy trying to act like I'm not annoyed at the people in my space. I'm too busy trying to speak and be nice when all I want to do is sleep. It agitates me just thinking about how much I dislike it.
Now, I'm not saying that the family did anything wrong here, I'm just saying that I can't handle it. At least, not without losing some sanity.
Post-Holiday Hangover
And so it takes me days to recuperate from going to see my family. I was there for five days and it takes two days of sleeping to get over it. Seriously. I can't believe how my brain has ceased to work since my return. Apparently it refuses to take note of the work that has been piling up on my desk. Apparently it refuses to function in spite of the fact that I really need it to. Apparently all it remembers how to do is sleep on my couch.
So I'm Too Tired
So I'm way too tired to explain to people how I feel. I thank god that no one has phoned me over the last two days because the idea of having to fake a phone call right now overwhelms me to the point of shaking. I can't explain it. I can't rationalize it. I can only say that it exists.
Every year I do into the holidays knowing they will suck. And every year they suck worse than I thought they would. And boy am I tired of that.
——————————————————————————————————————————————
About Natasha Tracy
Natasha Tracy is an award-winning writer, speaker and consultant from the Pacific Northwest. She has been living with bipolar disorder for 18 years and has written more than 1000 articles on the subject.
Natasha's New Book
Find more of Natasha's work in her new book: Lost Marbles: Insights into My Life with Depression & Bipolar
. Media inquiries can be emailed here.