Interview – A Carer's Role in Bipolar Recovery – And a FREE Ebook
You might remember Karen Tyrrell from her last interview wherein she talked about writing her way to mental health wellness. Well, this time Karen gives us advice on recovery and insight into the role a carer can play in bipolar disorder wellness.
Leave a comment on this post to be entered to win a
free ebook

of Karen's new writing.
A Carer's Role in Recovery in Karen's Words…
1. What is your diagnosis and mental health background?
In 2005, a psychiatrist diagnosed me with bipolar disorder and a psychologist with post-traumatic stress disorder after long term parent-teacher harassment at my school. I've recovered, managing bipolar on a daily basis. I'm now a mental health advocate, full-time author, motivational speaker and present mental health programs to hospitals, wellness centres and to the workplace.
2. What's Me and Him: A Guide to Recovery about?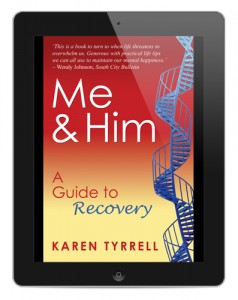 It's the sequel to Me and Her: A Memoir of Madness. Me and Him: A Guide to Recovery is two books in one.
In part 1, I share thirty chapters on the steps I took to recover and maintain wellness. Eg. How to stress-less, how to sleep better, meditation demystified, how to beat depression and anxiety.
In part 2, I share up-to-date events, disclosing the crucial role of my husband as carer and the secrets he revealed six years on from my incarceration into a psychiatric hospital
3. Who do you think would benefit from this book and why?
People with bipolar disorder can discover pro-active tools to manage their illness. The same tools apply to everyone who wants to become more resilient and achieve mental happiness.
4. What are the aspects of recovery you think more people should focus on?
You must develop your own personal wellness plan, empowering you to recover and to remain resilient. Accept that every day is not perfect and you can begin again the next day. Enlist a support team including a psychiatrist, a counsellor, a carer/ support buddy and a chat group.
5. What role did your carer have in your recovery?
My carer had a crucial role as leader of my support team. Steve, my husband was my watch dog carer keeping an eye on my healthy routines, cautioning me to take care, reminding me to take medication, driving me to appointments and providing feedback to health care providers.
6. What advice would you give people who are newly diagnosed?
Accept your diagnosis and treatment plan. Learn everything you can about your illness. Begin your journey of recovery with a positive belief you can recover.
7. What advice would you give to people who find their recovery stalled?
Examine your wellness plan carefully, working out what your triggers are and how to avoid them. Embrace a wide repertoire of wellness tools to manage your bipolar. Enlist a support team who can help you keep well.
The EBook Book Giveaway
Please leave a query/comment/shared experience here to win a free eBook of Me and Him: A Guide to Recovery.
Special Bonus Offer
Purchase an eBook Me and Him: A Guide to Recovery on Amazon between March 10-17 and you'll receive for free:
A Me and Him audio book
An Audio meditation
A Mental health video
To claim this bonus offer, email your Amazon receipt dated March10-17 to bonus@karentyrrell.com.
For more info: http://www.karentyrrell.com
——————————————————————————————————————————————
About Natasha Tracy
Natasha Tracy is an award-winning writer, speaker and consultant from the Pacific Northwest. She has been living with bipolar disorder for 18 years and has written more than 1000 articles on the subject.
Natasha's New Book
Find more of Natasha's work in her new book: Lost Marbles: Insights into My Life with Depression & Bipolar
. Media inquiries can be emailed here.