Losing Hope for Bipolar Wellness When a Role Model Gets Sick
There are many reasons I don't typically talk about my own, personal, current mood and treatments. I've written about why I don't write about my bipolar treatments here. Similarly, I don't talk about my current bipolar mood state because my writings are less about me, in particular, and more about the experience of bipolar, in general. I believe that's one of the reasons my writing is so popular. I take my personal experience of bipolar disorder and use it as a springboard to speak to what it's like to experience bipolar for so many.
But one of the other reasons I don't talk about my personal, current mood state is because I'm a private person. I know this seems weird considering how much I share online. But I'm careful with what I share, and what I don't.
And finally, I know that I'm a role model for some people and I don't talk about my own current mood episode because I don't want other people to lose hope. In spite of recent accusations, I do actually bring hope to thousands of people with bipolar and people who love those with bipolar disorder and I don't want to do anything to injure that hope.
Negatively Impacting the Hope of Others
And, just as I feared, I got a letter on this topic the other day after I admitted to not being well. The woman who wrote me seemed very kind and thanked me for my writings. She said that her son had bipolar disorder and she had learned so much from my work. She went on to say though, that she had always considered my wellness a source of hope for her son. She always thought I was a vision of the life a person with bipolar, like her son, could live. And then she said, "but now I'm worried about you."
I wrote the woman back and clearly told her that there is every hope in the world for her son and that fact doesn't hinge on my own wellness. (I'm sure she understands this, of course, but it's helpful to hear it out loud.)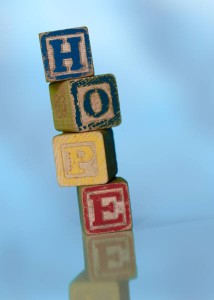 My Bipolar Relapse is not Your Bipolar Relapse
And so, I just want to say clearly to anyone who might be feeling a little hopeless that just because I got sick again doesn't mean that you'll get sick again. And just because I got sick again, doesn't mean that you won't get well. I'm not the be all and end all of bipolar disorder. I'm just one tiny example of the disease.
What I've Accomplished Since Being Diagnosed with Bipolar
And lest we forget, I have accomplished many things since being diagnosed bipolar, sometimes even when I was very sick. I don't say this out of ego; I say this to tell you that you can do it too. True, maybe this day isn't my best day, but that doesn't mean I won't have decent days again. And I know that I've done things like 150 skydives, paraglided over the mountains of Venezuela, gotten a bachelor's degree, won awards and worked for a fancy U. S. tech company. And somewhere, deep down inside, I believe I will do things just like that again.
And I believe you will do things in your life just as fantastic.
True, your version of fantastic probably isn't mine as we're all different, but happiness, contentment and fulfillment is fantastic no matter what it means to you.
So please believe me when I tell you, hope is alive and well in the world. Yes, things suck right now. But I have hope that things will get better and so should you. If you do consider me some sort of role model, maybe that's something you can take from me too.
——————————————————————————————————————————————
About Natasha Tracy
Natasha Tracy is an award-winning writer, speaker and consultant from the Pacific Northwest. She has been living with bipolar disorder for 18 years and has written more than 1000 articles on the subject.
Natasha's New Book
Find more of Natasha's work in her new book: Lost Marbles: Insights into My Life with Depression & Bipolar
. Media inquiries can be emailed here.