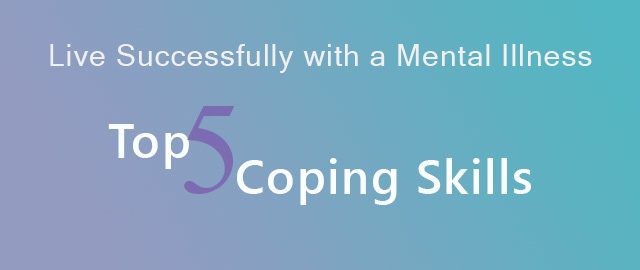 Live Successfully with Mental Illness — Top 5 Coping Skills Ebook — FREE
Hi folks, thanks for popping by.
I know I haven't been producing as much writing as I usually do, but there's a reason for this — it's because I've been working on a short ebook called: Live Successfully with Mental Illness: Top 5 Coping Skills. As the title suggests, this ebook talks about five, critical skills you need to cope with any kind of many illness (and, in fact, life, in general). This ebook contains my thoughts but also scientific references on facts that are asserted in the text.
Live Successfully with a Mental Illness: Top 5 Coping Skills Ebook
Covered in this ebook are skills like:
Developing positive self-talk
Identifying and fighting cognitive distortions
How to get a good night's sleep
Gaining insight into your mental illness and your thoughts and emotions
Skills are broken down simply and I use examples that are easy to understand. This book is for anyone with a mental illness and their families and friends will likely learn from it, too.
So, how do you get a copy of this mental illness coping skills ebook? That's easy, just join my mailing list (below) and I'll send you what you need to access a copy — completely FREE of charge.
I will never sell or share your information with anyone. I hate spam, too.
(Note that this is a double opt-in so, in other words, you will get an email once you put in your email address above and you must click on a link in the email in order to receive emails from the Burble.)
Bipolar Burble's New Newsletter
Signing up also means you'll get a newsletter from me that will contain interesting mental health information that I don't have a chance to cover on my blog, what's going on with my writing, future speaking engagements and more.
One More Thing
Additionally, I'm also working on a full-length book that will, hopefully, be ready in about two months time. It will contain some of the best of my writings across multiple blogs as well as new writings. I'll let you know when this becomes available and when it is, it will be available through Amazon.com worldwide.
I hope you will take the time to support these two new ventures.
[If you've already signed up for communications from the Burble then you should have already received an email from me yesterday with access to the ebook. If you didn't get this mail, see if you're subscribed by inputting your email above. If you are, then check your spam folder.]
——————————————————————————————————————————————
About Natasha Tracy
Natasha Tracy is an award-winning writer, speaker and consultant from the Pacific Northwest. She has been living with bipolar disorder for 18 years and has written more than 1000 articles on the subject.
Natasha's New Book
Find more of Natasha's work in her new book: Lost Marbles: Insights into My Life with Depression & Bipolar
. Media inquiries can be emailed here.