British Psychology, Irritability, Mental Health Reporting – 3 New Things
3 Things I've Learned About Mental Health This Week
In a continuation of the 3 New Things series, this week follows up on the British Psychological Society's critique of the Diagnostic and Statistical Manual of Mental Disorders, version 5 (DSM-V), talks about irritable mood in bipolar disorder and expresses my general disdain for people who can't report about mental health accurately.
1. Do bipolars know when they're irritable?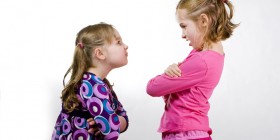 Irritability is a symptom for both depression and mania/hypomania in bipolar disorder. This seems to suggest people with bipolar disorder run around biting the heads off of everyone we meet, but this isn't the case. While I may feel angry and irritable, I, for one, can cover this up as I know it's a symptom of the illness and not really me.
The interesting thing is, some patients don't even consider themselves irritable because they have the ability to hide it. Note the following interesting quote:
Patients may not understand what elevated, or euphoric, mood means, so it may be necessary to define these terms. Similarly, the meaning of "irritable" may be unclear to patients. Many patients do not regard themselves as irritable if they can refrain from expressing their easy propensity to anger. Therefore, it is critical to emphasize that although the anger may not be expressed outwardly, the emotion of simply feeling irritable is significant.

From: Psychiatric Times, Mixed States in Their Manifold Forms: Part I
2. The British Psychological Society's Critique on the DSM-V
Last week I asked if the British Psychological Society (BPS) was reputable as I questioned the motives behind their critique of the DSM-V revisions. It's not that they don't have their points, it's just the points they're making are copied-and-pasted to virtually every diagnosis either new to the DSM or not. It turns out my suspicions may have been wrong. The BPS does seem to be a genuine, reputable organization.
I came across an article in Psychiatric Times that explained issues with the BPS's DSM-V critique beautifully – by blindly applying the same "feedback" to virtually every part of the DSM, their feedback has no weight at all and smacks of an agenda.
Even if they say something people should be listening to, it gets lost in the din of all the noise caused by putting the feedback where it doesn't belong (article).
3. Reporting on Mental Health Issues is Appalling
rTMS does not use magnets to "realign" a person's brain.
I am not a reporter. I try to be a true, honest, accurate writer of credibility, but a reporter I never claimed to be. For actual reporters though, I rather think they have a higher bar.
Like, to write things that are accurate. Exhibit A:
The treatment [rTMS] hinges on the idea that every cell in the body has an electromagnetic field, and when this field is out of alignment, problems develop. RTMS then uses the highly focused magnets to realign a depressed person's brain, and get it functioning properly again.
For the record, that is incredibly wrong and rather stupid. rTMS has nothing to do with cells having "electromagnetic fields" and there is no such thing as "realignment." That all sounds like new age mumbo-jumbo which, in this case, takes actual science and turns it into nonsense. All I can say is that if you read something in the media, you'd better check out the facts yourself because it sure seems like the reporter isn't going to bother.
rTMS uses a very strong, magnetic field that rapidly changes polarity to create an electrical current. This current activates neurons in a specific part of the brain just like electroconvulsive therapy, but without the cognitive side effects (or likely, effecacy rate).
Perhaps it's too much to ask that a reporter understand those two sentences. Sheesh. (And for an extra dose of outrage, check out the comments, which can only be inflamed by the misinformation in the article.)
Until next week when I will learn more and try to do better.
——————————————————————————————————————————————
About Natasha Tracy
Natasha Tracy is an award-winning writer, speaker and consultant from the Pacific Northwest. She has been living with bipolar disorder for 18 years and has written more than 1000 articles on the subject.
Natasha's New Book
Find more of Natasha's work in her new book: Lost Marbles: Insights into My Life with Depression & Bipolar
. Media inquiries can be emailed here.