Mental Illness Words You Can't Say
As a writer I take claim to any and all words. They are mine and I do with them as I please. This includes mental illness / mental health terms. However, some people would argue that as a mental health writer and advocate, it is my responsibility to promote certain language and verbiage.
I did not agree to that.
I agreed to be a writer. I agreed to be opinionated. I agreed to be passionate. I agreed to be well-researched. I agreed to be intelligent. I did not agree to push a political agenda.
Mental Illness Words You Can't Say
Nevertheless, people still insist that I not use the following words / phrases:
Whackjob
Nutbar
Bonkers
Off his rocker
Mentally unstable
"The mentally ill"
Bipolars
"I'm bipolar"
And about a million other things. The politically correct people have told me I'm not allowed to refer to anyone's mental capacity in anything but the most politically correct way. Which is, in case you were wondering, a person with a mental illness or a person with bipolar disorder, etc.
Again, not to flog a horse that happens to be dead, but I have poetic license which means I get to do whatever I want with words.
I'm Bipolar. I'm Crazy. Sue Me.
I've talked about saying I'm bipolar before. I do not consider this to be belittling or stigmatizing and I'm sorry that you do, but that's really not my problem. It's a proper English statement with actual English words and if you don't like it, feel free to take it up with Funk and Wagnells.
This is similar to the statement of I'm crazy. I am. It's just the way it is. It's reality. I'm using the words in a proper English fashion. Sue me.
Creative Terms for Crazy
And given all the political correctness in the world I certainly can't use a term like whackjob or nutbar. Except, of course, that I do. I don't use the terms liberally, I don't apply them to the mentally ill, but I do use them. Because they're words and I need words in order to express what I'm trying to say.
(In the case of something like bonkers I'm referring to someone with a tenuous grasp on logic, reason and sanity, which is not to say mentally ill. The most mentally well person can be nutbar – trust me.)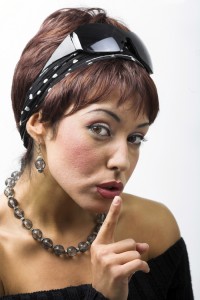 But I'm Offended!
Sorry to hear that. But perhaps you could respect a writer's right to actually use words for self-expression. When I start using actual mental health terminology in a degrading way you can call me on it. Until then, I'm not terribly interested.
I'm Passionate. I Eschew Political Correctness.
One of the things people like (or perhaps loathe) about me is that I am passionate. That I am insanely (yes) attached to ideas and concepts and am willing to say so in a way that makes sense for me. And that doesn't fall within the bounds of political correctness. Art never does. Poetry never does. Shakespeare never did. Political correctness forces tepidity. I have no intention of being tepid.
Fine Then, I Don't Respect You
I'm sorry to hear that. But that's OK by me. If you read more than a smattering of my work then you'll know who I am – virulently defendant of me and my kind. And if that isn't enough for you to respect, because you don't approve of the letters that make up a sentence, that's your prerogative. But I'm not going to stop because the political winds blow. I have no desire to offend but I do have desire to describe. And I'm going to do that in the best ways I know how.
——————————————————————————————————————————————
About Natasha Tracy
Natasha Tracy is an award-winning writer, speaker and consultant from the Pacific Northwest. She has been living with bipolar disorder for 18 years and has written more than 1000 articles on the subject.
Natasha's New Book
Find more of Natasha's work in her new book: Lost Marbles: Insights into My Life with Depression & Bipolar
. Media inquiries can be emailed here.